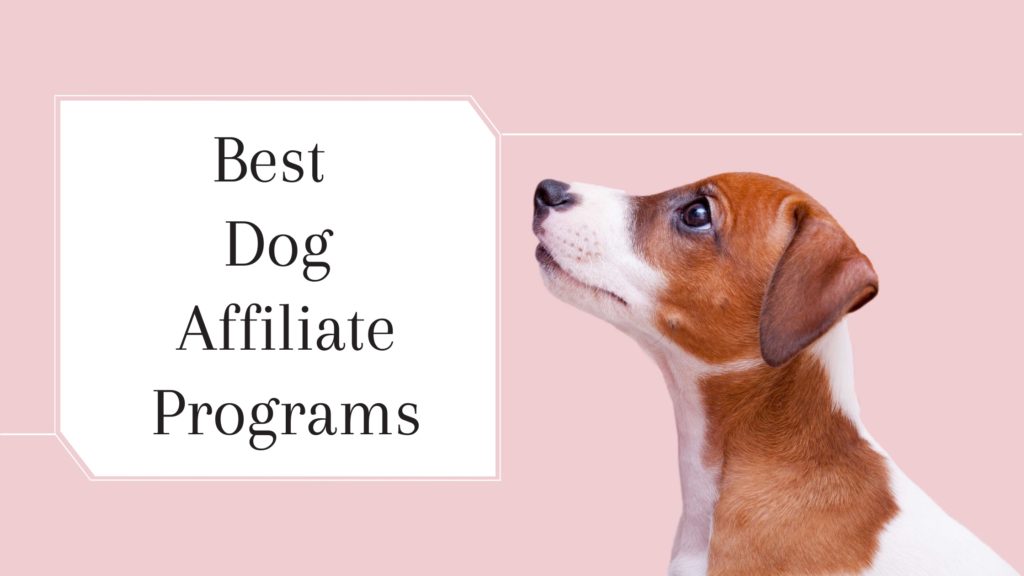 9 Best Dog Affiliate Programs of 2022
It has been a really challenging time for most pet niche bloggers, creators or youtuber to monetize their platform and earn a good amount of money from it.
But you do not have to worry anymore!
In this blog post, l will give you the list of 9 best dog affiliate programs available on the web that you can join right away and get money for each sale.
Some of these programs will offer you a 5% commission on every product sale, while some offer 10% commissions. Some even offer 15% commission on some products.
Yumwoof
Yumwoof is a natural food company for dogs started in 2008.
They utilize the latest science from NIH research and AAFCO dog food nutrients profiles to make low carb dog food.
Their main focus is to provide nutritious food to your dog and make them healthier rather than filling them with unhealthy food.
Yumwoof's recipes contain no preservatives, fillers, or ultra-processed additives, and they only use actual ingredients.
They have an amazing payment structure, with one of the highest commission rates in the pet food business.
Their average EPC rate is $200.
Commission – 5% – 10%
Cookie Duration – 30 days
Zee Dog
Zee Dog is a dog accessories website with the main purpose in mind to connect humans and dogs.
You can find almost all types of dog and cat accessories that make your dog look cool.
They uniquely do things and keep up with the latest trends.
Zeedog designs pet products with a basic understanding of what people want.
It is one of the best dog affiliate programs with an average commission rate of $76.99 at the time of writing.
Commission – 8%
Cookie Duration – 30 days
Just Food For Dogs
Justfoodfordogs is a food company for dogs that started in 2010.
When they built the first open to the public kitchen preparing food for dogs, they started the fresh, whole food revolution for pets.
For the first time, customers could see the most nutritious food for their family pets being prepared right in front of their eyes.
JustFoodForDogs is the only dog food on the market that has been proven healthy by two independent universities.
Their recipes have been tested for a year and have been shown to boost the immune system of dogs healthily.
The meals are created by a team of in-house veterinarians who use only fresh, whole food ingredients that are USDA certified for human consumption in recipes that are nutritionally balanced for both dogs and cats.
Commission – 10%
Cookie Duration – 30 days
CBD Dog Health
CBD Dog Health is a pet wellness company started by Angela Ardolino.
Dogs can benefit from CBD because they have an endocannabinoid system like humans.
This involves assisting with a wide range of symptoms, from mental anguish like anxiety to bodily diseases.
CBD Dog health products are carefully formulated with natural ingredients and full spectrum cannabinoid blends so you can rest assured that your customers are getting the best product possible without compromising on the quality.
Commission – 10%
Cookie Duration – 30 days
Sundays For Dogs
Sundays for Dogs is a dog food company focused on creating the greatest dog food for your dog.
The food is healthier than kibble and easier to prepare than home-cooked meals.
Tory and Michael started Sundays For Dog after their dog became sick.
It all started with a search for the best dog food.
Sundays For Dogs has a set of core beliefs that they publish on their website to provide pet parents with a glimpse into their minds when it comes to making healthy dog food.
They believe in using the highest quality ingredients, cutting-edge science, providing exceptional customer service, and being the greatest dog food for the best dogs.
Commission – 5%
Cookie Duration – 30 days
Doggie Lawn
DoggieLawn is an odorless, convenient way for dogs to do their business without having to go outside.
Perfect for puppy training, senior dogs, or busy pet parents that only want the best for their furkids.
DoggieLawn is delivered right to your door in four sizes: standard, medium, large, and XL.
Customers can choose to receive new grass mats regularly or on a subscription basis.
DoggieLawn is made of actual grass, which absorbs odours and provides the most comfortable poop experience possible for dogs.
Commission – 15%
Cookie Duration 90 days
Wooof
Wooof is a new food company for dogs started in 2021 by Travis.
For pet owners who are used to seeing pills, powders, and chews for their dog's nutrients, this is a unique offering.
Each container has a wonderful mix of vitamins, minerals, and superfoods that enhance overall health or target specific health concerns.
Many dog owners struggle to keep their dogs eating dry food regularly, thus these items can also be used as a food topper.
Commission – 18%
Cookie Duration – 15 days
Fit Bark
FitBark is a website that provides a little bone-shaped device that attaches to your dog's collar and tracks his or her activities.
Simply enter your dog's basic information and choose a lifestyle for your dog, and it will provide you with constant feedback and "BarkPoints" based on statistics from other dogs.
It collects data and compares it to those of other dogs of the same age and breed to help you understand the norms for your dog's age and breed.
If the dog's behaviour changes, you can have him examined to rule out any potential illnesses.
You can charge it without removing the FitBark from the collar, and each gadget has Bluetooth, which allows it to sync with your smartphone whenever it's close by.
You can guarantee your dog gets adequate exercise by having a pet sitter or walker supervise him.
It is a great product to promote as an affiliate because it could help your audience dogs live longer by encouraging greater movement.
Commission – 12%
Cookie Duration – 60 days
Active Dawg
Active Dawg is a dog health and fitness food website.
Their products help dog owners to prevent their dogs from arthritis, improve gut health and improve the quality of life.
When you sign up for their affiliate program you will receive advertising materials like banners, blogs and articles to make your work easier.
In addition, they have an average order value of $50 which means you can easily convert the target audience and earn a good amount of money from this single program.
Commission – 12%
Cookie Duration – 60 days.
Final Thoughts
You have covered the best dog affiliate programs in the market.
All you have to do is sign up for their affiliate program and promote it to your niche audience who are interested in buying these things.
Also, if you want to boost your affiliate marketing earnings then you can join this free affiliate marketing training. 
Want more? No problem!
Read more blogs below
The Ultimate Guide To Amazon Affiliate Marketing on Instagram
How To Do Affiliate Marketing on Snapchat
Easy Ways To Find Profitable Products On Clickbank
The 19 Best High Ticket Affiliate Programs (2021)
Comment & Share
I hope you enjoyed the blog!
If you liked it, I would really appreciate it if you can share it using one of the social sharing icons below.
Also, leave me a comment and let me know what you thought!