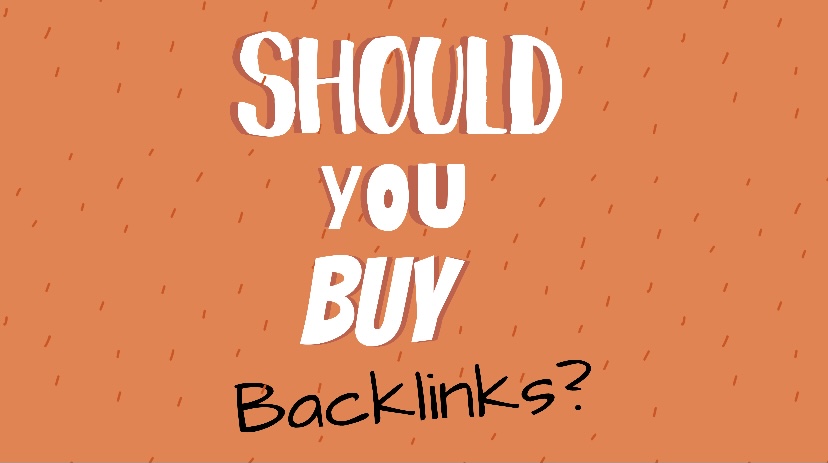 Should You Buy Backlinks? The Ultimate Guide
Backlinks are the backbone of your blog website because it's one of the factors that google uses to increase your search engine rankings.
You may be thinking of buying backlinks but is it right to do so?
This is what I am going to reveal in this blog post. You will know what backlinks are, their importance, types of backlinks, why people buy them and whether you should buy them or not.
What Are Backlinks?
Backlinks are usually regarded as a vote of confidence in the information linked to on your domain from other websites.
Backlinks from external sites (also known as referring domains) make up a greater part of your backlink profile and add to the overall strength, relevancy, and variety of your domain's backlink profile.
Many links from the same referring domain or multiple referring domains can be included in the overall number of backlinks.
If your content is relevant, authoritative, or beneficial to their own domain in any way, referring domains typically link back to it.
That's how backlinks are built in an ideal world; unique content that other websites want to be linked with.
Types of Backlinks
External Backlinks
"External backlinks" are incoming links from other websites or blogs that visit your site on a regular basis and return.
These are also known as "outbound" links from the site that is linking to you and "inbound" links from the site that is linked to you.
These types of links can be found in Google Webmaster Tools, which displays all external domains that point to your website.
For every given keyword, the more incoming links you have, the easier it is to rank higher in the search rankings.
This is because Google wants to provide high-quality information in response to its users' search queries that is worth their time and keeps them returning.
Nothing beats reliable sources like Wikipedia and About, and your goal should be to achieve a similar authority rating for your own site.
Internal Backlink
The "internal backlink" is the second form of backlink.
These are links from other pages on the same domain. 
For example, if you have a blog post about how to produce tomatoes and discuss compost in that article, and then include an internal link directing to another compost article anywhere in the body text, that is an internal link.
Internal backlinks can be created by including keyword-rich anchor text within the content for each new section, causing readers' eyes to naturally leap over as they skim through your pages – but don't overdo it! When there are more than two in a paragraph, it appears spammy.
The strength of these links is determined by two factors: the number of links referring to a page or domain and the quality of those links, which refers to the kind of pages on other sites from which they are linking back to yours.
These inbound links then convey 'link juice' from the other website to your website.
In Google's perspective, a backlink from another website is a vote of confidence in your website.
You will get higher rankings straight away by enhancing your site's authority, which will result in improved visibility and organic visitors.
A large number of high-quality backlinks to your website indicates to Google that your site is well-liked.
However, Google does not treat all links equally, and the wrong type (toxic links) has the opposite effect on your ranking.
Do Follow
A do follow link is a hyperlink that can notify all search engines to convey its page rank influence to an outbound link.
No Follow
The opposite of a do follow link is a no follow link. It's a hyperlink that prevents its page rank from being passed on to other websites.
Importance of Backlinks
Search engines value backlinks because they indicate that the site being linked to has high-quality content on a topic that is relevant to the site linking to it.
It's basically a digital vote of confidence.
Now that your website has been identified as having high-quality content, backlinks might assist you in achieving higher Google ranks.
The higher a site's ranking, the more total referencing domains it has.
To put it another way, the higher your Google rating, the more people will notice your company and visit your website.
Another benefit to good backlinks is that it helps to build your brand.
For example, if a high-quality, widely-visited website links to yours, you will benefit.
Why Do People Buy Links?
Time Saving Process
In the online market, starting from scratch is both risky and time-consuming.
As a result, many businesses buy backlinks to save time.
Many business owners can't wait for link building to happen naturally because it's only one component of establishing a great online presence.
Buying backlinks can provide you an advantage over competitors who are waiting for natural link building to happen.
It takes time to develop a link-building strategy.
It may take time and attention away from things like creating original content, fine-tuning your products, and bolstering your social media presence.
Higher Search Engine Ranking
Buying backlinks from a well-known website implies you'll have an audience waiting for you.
As a result, more people are seeing your content and clicking through to learn more.
Not only will Google give you a higher ranking as a result of this.
It benefits your company in a more direct way. If your links are spotted on the correct sites, you may be able to take advantage of a portion of that site's audience.
More Possibilities
There are more possibilities than ever before for buying backlinks.
You can select the best alternative for your budgetary requirements, company size, and target market.
Buying backlinks from a dodgy, fraudulent blog isn't the way to go.
It's all about paying a blogger to write high-quality content that promotes your website.
Buying Backlinks Good Or Bad?
Buying backlinks is bad for your website.
Google uses a complicated algorithm to assess the quality of web pages based on a variety of parameters.
They even consider the quality of the website from which your backlink originates as an indicator of your own website's quality.
Google will most likely rank you higher if a link to your website is spotted on a high-quality website.
If a link to your website is located on a low-quality website, on the other hand, Google will most likely rank you lower.
Buying backlinks from a "link farm" is a terrible approach to build backlinks and can be quite risky, as it violates Google's Webmaster Guidelines.
It's also worth mentioning that Google prefers natural links to your website.
It's far better to simply have good content or give good services so that people will link to your website without paying for it.
They could do so by including a link to your website on their blog or social media profiles.
This will be seen by Google, and it will help to improve your website's ranks.
You won't need to buy backlinks if you develop readable content that deserves to be shared.
Things To Consider While Buying Backlinks
If you still want to try sponsored backlinks, despite all the cautions, at least for a short-term profit, here's what you should do:
1. Instead of buying backlink packs, use individual ones.
2. Individual site owners should be preferred over untrustworthy backlink services.
3. Never buy backlinks from a website that explicitly states that it sells them.
4. Purchase backlinks from only the most relevant websites.
5. Rather than appearing as advertising, try to make your backlinks appear as part of the website content.
6. Paid backlinks should account for no more than 10% of the total number of links you create.
7. Avoid links from sites with a low domain authority (DA). Only link back from high authority website
8. Article directories should not be used as a source of links.
9. Say no to links from sites that have been penalised.
10. Stop using link-building software that generates links automatically.
Should You Buy Backlinks?
So the end decision is yours but I do not recommend buying backlinks.
It's a black hat seo technique.
And backlinking happens naturally when you generate good quality content to your website.
One thing you should keep in mind is that you want engagement on your website and your niche audience should actually love your content.
Do not try to force things to happen.
If you are producing valuable posts then people will obviously link back to you.
You should focus on doing hard work rather than short term success. Brands are not built in one day the same goes with your website.
If you are just starting out do not worry about backlinks.
Just focus on content creation.
Right Way To Buy Backlinks?
Guest Posts
Guest posting is when you write a post for someone else's blog as a guest blogger.
When you buy links, you normally have to pay for this service.
Guest posts will be among your most powerful links.
Because the seller will usually promise important metrics when you buy them.
As a result, you have control over the strength of a guest post link.
You won't need as many of these links to make a difference because they're stronger.
One or two of these, however, can have a big impact on your link building and rankings.
Niche Edits
Niche edits is a great strategy to build backlinks for your website.
The reason for this is that they're on old pages that have already been linked to.
A portion of that power will be passed to your website.
Despite this, they are typically less expensive than guest posts.
This is due to the fact that there is no charge for the article.
So, what's the drawback?
Because they aren't as natural as Guest Posts, you should mix and match different link types.
Email Outreach To Fellow Bloggers
You can email your fellow bloggers and ask them to link back to your website in exchange for a fee.
Most of the bloggers are open to this type of opportunity because eventually they want to earn money from their website.
Before that you should check their website authority and any red flags.
Meaning in the past they are not involved in any kind of black hat seo strategies or penalised by google.
Their website should be well established and relevant to your niche.
FAQ
Is it illegal to buy backlinks?
Yes, it's not right to buy backlinks. Google's Webmaster Guidelines prohibit the purchase of backlinks. If you are caught, you will face a Google penalty. And a Google penalty like this will obliterate your search engine rankings.
Is backlinks good for SEO?
Backlinks are essential for SEO since they tell Google that your content is valuable enough for them to link to it from their own site. As a website accumulates more backlinks, search engines determine that it has valuable stuff worthy of high rankings.
How Can I Get Free Backlinks?
You can use various strategies like producing high quality content, infographics, statistics, podcasts etc.
Final Thoughts
Although buying backlinks is a time saving strategy, it involves a lot of risk that can damage your site rankings drastically. Google penalises websites that are caught buying backlinks. But if you want to give it a try then you should consider the things that I have discussed above. Backlinks happen naturally and it's a safe method also. If you want to know more about it you can read my blog that I have linked below.
Want more? No problem!
Read more blogs below
Link Building: How To Build High Quality Links (2021)
Authority Content: How To Create It Even If You're Not An Expert?
How To Create Evergreen Content: A Step-by-Step Guide to Writing Timeless Posts
How To Hire A Virtual Assistant To Do Mundane Tasks
Comment & Share
I hope you enjoyed the blog!
If you liked it, I would really appreciate it if you can share it using one of the social sharing icons below.
Also, leave me a comment and let me know what you thought!