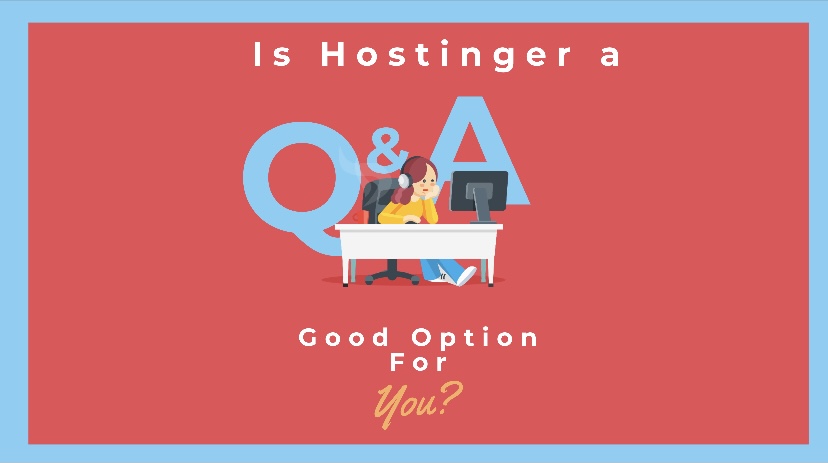 Hostinger Review: It Is Cheap But Is It Good?
Are you looking for the best web hosting service provider and have heard about hostinger?
But you are wondering whether it's the right choice for your online business!
Then you have come to the right place.
Hostinger is one of the most popular hosting service providers.
It provides various possibilities when it comes to hosting.
They started their business in 2004 and now their average customers sign up rate per day is 15K which is an insanely high amount of people.
Means they are doing something right that's why people are trusting their website.
So In this post I am going to review hostinger and you will get to know what exactly hostinger is, its features, pricing plans, downsides and more.
What Is a Hostinger?

Hostinger is a supplier of fast, stable, and streamlined web hosting services at very low prices, with the purpose of making web developers' lives easier.
The company claims to have local services in 39 countries and over 29 million clients, with 15,000 new customers signing up every day on average.
Hostinger specialises in WordPress-optimized shared hosting and scalable virtual private servers, as well as a drag-and-drop website builder.
For yearly plans, the VPS service also includes daily/weekly backups and a free domain name.
The data centre for the service uses cutting-edge storage technology, including strong solid-state drives.
Features:-
WordPress Hosting
Hostinger makes it simple to get a WordPress website up and running.
Its backend is powered by LiteSpeed Cache for WordPress (LSCWP), which you can use to manage and integrate cache.
Automated page caching, a private cache for logged-in users, scheduled automatic purges for certain URLs, and an SEO-friendly sitemap are all options for optimising your site.
You can also look at a list of the best website building tools for more possibilities.
Quick Loading
If your site takes too long to load, customers will lose interest.
You won't have to worry about that if you utilise Hostinger because it is super quick.
Hostinger is one of the fastest in the industry, with an average loading time of 150 milliseconds.
Uptime of 99.99%
When picking which web server to utilise, uptime is an important factor to consider.
Hostinger guarantees a 99.99% uptime, which is the industry norm.
Although there are occasional outages, Hostinger boasts one of the highest uptime rates.
Backups Are Made On a Regular Basis And Are Fully Automated
Depending on the package you choose, Hostinger offers automated daily or weekly backups.
Backing up your data on a regular basis is critical since it can help you avoid data loss or corrupted files.
You don't want to lose your data in the event of a hacking attempt, a hard drive failure, or an accident.
This ensures that you don't have to start over and lose all of the hard work you put into it the first time.
Free Domain And Website Builder
With all Hostinger plans, you'll get a free name and a website builder.

If you're building a new website from the ground up, this will come in handy. Beginners will benefit as well.
Its drag-and-drop website builder makes customising a website straightforward, even if you don't have any programming knowledge or expertise.
They also feature a tonne of fantastic templates to use as a helpful tool.
30 Day Money Back Guarantee
You can get your money back if you're dissatisfied with Hostinger's web hosting services within 30 days of signing up.
The industry standard for web hosting guarantees is 30 days. Most providers will give you at least this amount of time to alter your mind and receive a refund.
Hostinger's money-back guarantee is adequate, however it comes nowhere close to that of several other web providers.
Unlimited
Users on the business and premium plans get access to unlimited bandwidth and SSD disc space, allowing them to host web projects of any size.
Email Options
Hostinger has some of the most advanced emailing options available.
Email forwarding, auto replying, spamassassin protection, and other tools to send and receive emails from anywhere are included, as well as global access and the ability to send media content.
Pricing:-
Shared Web Hosting
The most basic plan offered by Hostinger is shared web hosting, which implies that your website will share a server with other websites.
This is ideal for those who do not have the financial means to pay for pricey web hosting because the server's cost is shared by a large number of people.
The disadvantage is that site speed may be hampered as a result of the large number of customers sharing the same server.
Single
If you're just getting started with a website, the Single plan is all you'll need to get started.
With a 48-month commitment, the Single plan costs $1.39 per month, rising to $9.49 per month if you sign up for a monthly commitment.

This plan includes 1 website, 30 GB of SSD storage, 100 GB of bandwidth, 10 GB of solid-state storage, a free SSL certificate, 1 email account, and more.
Premium
The Premium level of Hostinger has all of the features of the Single level plus some extras like free domain registration (for the first year only), unlimited bandwidth, up to 100 websites, 100 GB of SSD storage, up to 100 email addresses, and more.

Pricing ranges from $2.59 per month for a 48-month commitment to $10.29 per month for a monthly commitment.
Business
If you're wanting to upgrade your plan, Hostinger's Business option might be ideal.
This plan includes everything in the Premium plan, plus daily backups, four times the processing power, 200 GB of SSD storage, and more.

The Business plan is $3.99 per month for 48 months and goes up to $15.99 per month for a monthly commitment.
Cloud Hosting
Cloud hosting varies from traditional hosting in that your site is hosted in the cloud rather than on a single server, allowing you greater flexibility and scalability.
Startup
The Startup cloud hosting plan costs $9.99 per month for 48 months.This is a fantastic place to start.
Professional

If you want something more, Hostinger recommends the Professional cloud plan, which starts at $18.99 per month for 48 months.
Enterprise

If you still need more, the enterprise plan, which costs $69.99 per month for 48 months, may be just what you're searching for.
The pricing difference between the Professional and Enterprise plans is due to a number of features, including four times the speed boost of the Startup Plan, 16 GB RAM, eight CPU cores, and more.
VPS Hosting
If you want to create a big difference with your company's website, VPS hosting might be the way to go.
The term "virtual private server" refers to having your own server rather than sharing one with other users.
Hostinger offers 8 distinct VPS hosting plans, with prices starting at $3.95 per month for a 48-month commitment.
For that money, you receive 1 GB of RAM, 20 GB of storage, and 1 TB of bandwidth and going up to the VPS 8 plan, which includes 16 GB RAM, 250 GB storage, and 12 TB bandwidth.
For the next 48 months, you'll have to pay $77.99 per month.
Email Hosting
Hostinger provides a one-of-a-kind hosting service that few of its competitors do: Email hosting for online marketers.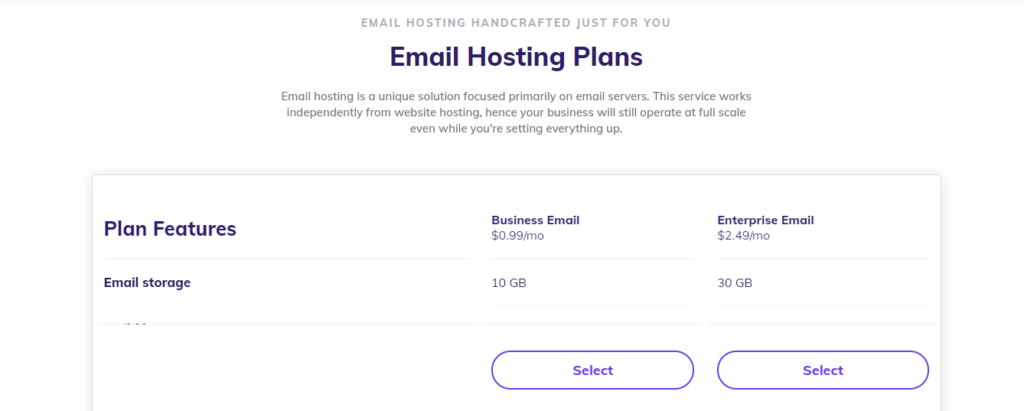 This hosting package starts at $0.99 per month for 48 months and goes up to $2.49 per month for 48 months.
Downsides of Hostinger
Traditional cPanel Is Not Available
If you are an advanced user then you may not love this feature.
A traditional control panel, such as cPanel, is used by most hosting firms.
Hostinger has developed its own cPanel which may be easier to use for new customers than a traditional control panel.
If you're used to cPanel, though, you might not like their dashboard.
Exceptions to the refund policy
Although Hostinger provides a 30-day money-back guarantee, this does not guarantee that you will receive a full refund.
Domain name registrations, for example, can only be refunded if cancelled within four days after purchase.
In addition, there are no refunds for privacy protection, domain name renewals, or redemption fees.
FAQ
Is hostinger a good hosting provider?
Yes, hostinger is one of the best hosting service providers. It provides excellent uptime of 99% and amazing features.
Can I Pay Hostinger Monthly?
Yes, you can pay hostinger on a monthly basis. But then you will not receive a discounted price. For example if you choose a shared hosting monthly plan then you need to pay $9.49 per month plus $4.99 setup fee instead of paying $2.99 per month if you choose an annual plan.
Is Hostinger Safe?
Yes, hostinger service is safe because they use advanced security modules that makes possible to provide highest level of security to their users
Is hostinger good for bloggers?
Yes, hostinger is one of the best options available for bloggers. It provides a variety of advanced features with unlimited space in premium and business plan. You can easily install wordpress on hostinger web hosting.
Final Thoughts
Overall when it comes to hosting, Hostinger provides a bunch of possibilities. They also provide WordPress hosting, which is a popular choice among web designers. At Hostinger, there is a hosting plan for everyone. Their pricing is pretty cheap when you commit them for 48 months and if you want to pay monthly payments then it can be a bit expensive for you. They do not have any dedicated servers so this service is not for the advanced marketers who are looking for it. Also it's quite easy to use their interface which is beneficial for beginners.
Want more? No problem!
Read more blogs below
Top 6 Best Web Hosting Providers of 2021
Bluehost Review: Is it worth it (2021)
How To Create Evergreen Content: A Step-by-Step Guide to Writing Timeless Posts
How To Hire A Virtual Assistant To Do Mundane Tasks
Comment & Share
I hope you enjoyed the blog!
If you liked it, I would really appreciate it if you can share it using one of the social sharing icons below.
Also, leave me a comment and let me know what you thought!