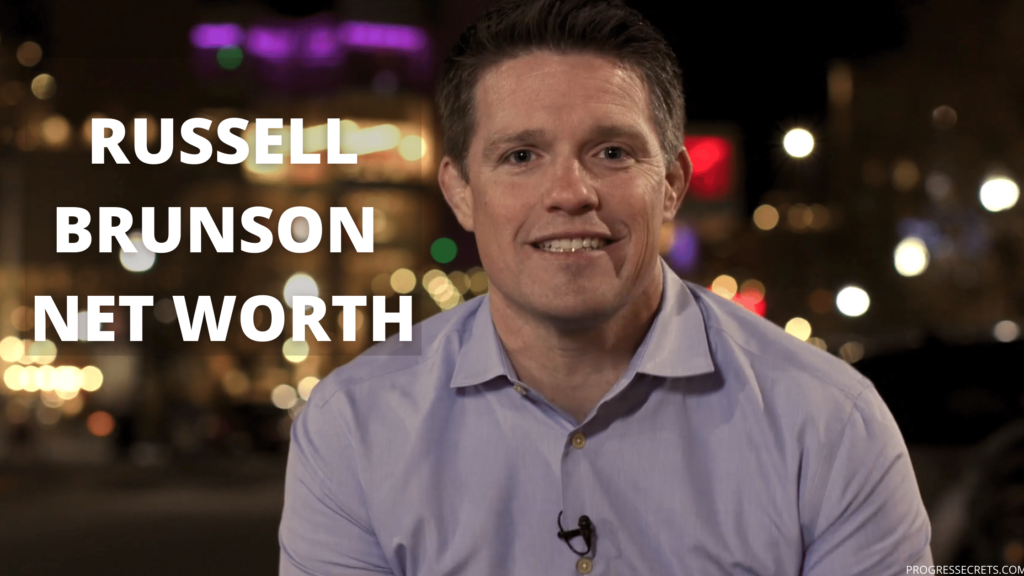 Russell Brunson Net Worth: Owner of Clickfunnels
Wondering what is Russell Brunson net worth?
If you've ever looked up sales funnels, you've most likely come across Russell Brunson.
Not surprisingly since he was among the first to popularise the sales funnels concept, he created a large number of lateral projects to promote his product.
And, in 2018, he earned $3 million in just 90 minutes at the 10x Growth Conference.
In 2017, the value of his SaaS company, ClickFunnels, was estimated to be $360 million.
It is estimated that his net worth is 37 million dollars.
But how did he get to where he is, and what can you learn from him?
How did he make so much money?
How did he amass his fortune?
In this blog post, I'll explain how Russell Brunson came to have a net worth of $37 million, and how you can too!
Table of contents
Who is Russell Brunson?
Start of Russell Brunson Clickfunnels?
Russell Brunson Net Worth?
Final Thoughts
Russell Brunson Net Worth FAQ
Who is Russell Brunson?
Russell Brunson was born on March 3, 1980, in Provo, Utah (United States).
He later moved with his family to Boise, Idaho, where he grew up.
It's also where he settled down, married Collette Brunson, and raised his five children.
During the early years of his online marketing career, his sales portfolio included a diverse range of products.
He sold everything from software, coupons, coaching books, tech services, t-shirts to t-shirts and consulting services.
Russell Brunson came in first place in this first major venture, generating 1.5 million leads and was gifted with Ferrari by several companies for his achievements.
He worked while observing potential solutions to existing problems, as most successful people do.
He recognised the need for sales funnels to enable technology after a few years in the business.
This market inspired the creation of ClickFunnels, a cutting-edge service provider.
Brunson is currently recognized as the founder of SaaS, which in 2017 developed revenue software worth 360 million dollars as a service without any external financing.
Selling products became an obsession for him, and he earned his first million dollars within a year – a turning point in his career.
Russell built funnels the hard way during that period (back then, you had to know code or hire tech gurus to create sales funnels).
He was called internet marketing guru after click funnels launch.
Start of Russell Brunson ClickFunnels
Brunson perfected many systems that he still uses in his business today after years of tinkering with email marketing.
They're known as sales funnels.
Beyond the glitz and glam of a sales page with its slick copy, and at the heart of any successful internet marketer's business, is a software program that allows anyone, including Brunson, to sell on autopilot.
Sales funnels, on the other hand, were difficult to construct.
Brunson says that his team would spend 4 to 6 weeks building out each funnel.
That is where ClickFunnels was born.
Clickfunnels were developed in order to enable his team to construct funnels and web sites much more quickly than ever.
Brunson and co-founders Todd Dickerson and Dylan Jones, on the other hand, knew they were onto something special.
The system is quite brilliant.
It enables anyone to create a sales funnel by using a templated version or by creating their own.
The templated versions support a wide range of funnels, including email opt-ins, product launches, and webinar sites, among many others.
Most well-known email and payment platforms are available as integrations, allowing for extensive funnel customization.
What was most impressive about ClickFunnels was its customer service.
If you've ever used a SaaS platform, you've probably been frustrated with the support, even if you found the software useful.
They've reduced the time it takes to respond to support tickets to about 83 minutes by using ClickFunnels.
That's pretty impressive with 100+ people on staff and 40,000 members.
Russell Brunson Net Worth
With Russell's software company, bestselling books, events, coaching, and information products, it's natural to wonder about his net worth, which is why this section exists.
He has been compared to some of the greatest marketing influencers of our time, including Gary Vaynerchuk and a few others.
He was the one who made millions from other marketing ventures before launching his ClickFunnels company.
For example, before launching his ClickFunnels company, he won a Ferrari for a marketing company by ranking up the value of a sale worth more than 1.5 million dollars in revenue.
Running ClickFunnels for the past five years as his most successful company yet, and generating annual revenue of about $20M – $40M in net profit, as well as his books selling for over $1,000,000 and his inner circle coaching program generating over $4M in net profit over the last four years, it is safe to say Russell Brunson net worth is over $50M.
Final Thoughts
Look, hard work is only beneficial if you've pitched your ladder against the correct wall.
What is the point of working hard if you don't enjoy it or are naturally good at it?
Brunson has created everything from the ground up in the last five years.
However, there is no such thing as an overnight success.
Brunson began a long time ago, collecting all those direct response ads and studying them over the years to see what made a reasonable offer tick.
Brunson's success demonstrates many things and the most important one is that you must be completely committed to who you are and what is most profitable.
Russell Brunson Net Worth FAQ
How Old Is He?
Russell Brunson was born on March 8, 1980. And, as of the time of writing, he is 41 years old.
What is Russell Brunson's wife's name?
Russell Brunson wife's name is Collette Brunson. They've been together since his college days and have five children.
Where Does Russell Brunson Live?
Russel Brunson and his family reside in Boise, Idaho, which also serves as the headquarters for ClickFunnels.
How Can I Get in Touch With Russell Brunson?
Being a very busy entrepreneur, I don't think having direct access to Russell Brunson would be easy. But becoming a part of Russell's inner circle or 2comma club coaching is one of the sure ways I believe you can connect with him. I also want to point out that he is very interactive and engaging on all of his social media accounts, particularly Instagram and Twitter, but I doubt he is the one in charge of those accounts. As with other business owners, he must be kept busy away from social media.
Want more? No problem!
Read my blog below.
15 Best ClickFunnel Alternatives in 2021
Traffic secrets book Review by Russell Brunson
Comment & Share
I hope you enjoyed the blog!
If you liked it, I would really appreciate it if you can share it using one of the social sharing icon below.
Also, leave me a comment and let me know what you thought!