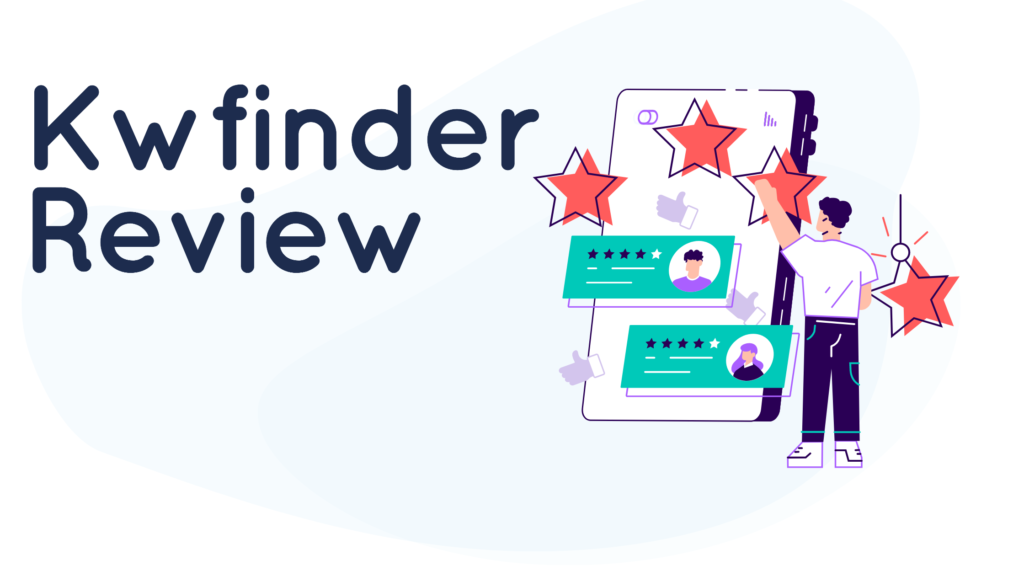 Kwfinder Review (2022) : Is It Worth It?
Keywords are an essential component of search engine optimization. Every web page that has been optimised for search engines makes use of specific keywords. These keywords are critical for Google and other well-known search engines. Keywords assist search engines in determining what each web page is about and are used to suggest relevant search results based on them.
One of the best things you can do to improve your search engine optimization is to research keywords related to your industry or niche. Also it is necessary to find low difficulty keywords.
And using a tool like KWFinder is the ultimate solution for finding low competition and high volume traffic keywords.
So let's learn more about this tool…
What Exactly Is kwfinder?
KWFinder is a cost-effective keyword research tool that includes information on the competitiveness/level of difficulty of words, user search trends, and a SERP overview (search engine results page). It's the most popular keyword tool for newbies, and it's perfect for bloggers, small business owners, freelancers, and even students who want to improve their SEO skills.
It aids in the discovery of long-tail keywords with a low SEO difficulty.
It's just one component of the Mangools Suite, which includes five different resources:
KWFinder
SERP Checker
SERP Watcher
Link Miner
Site Profiler
What Does Kwfinder Do?
Keyword Research
Enter your keyword, then choose the location you'd want to explore.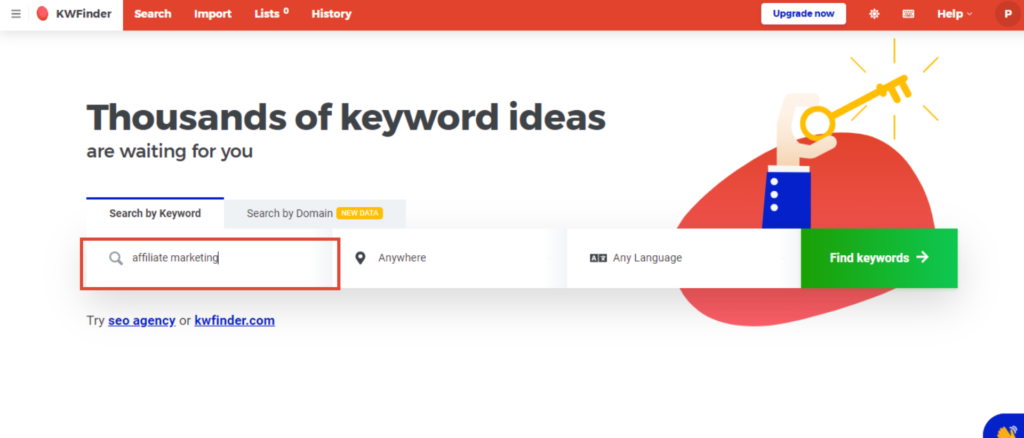 Examine your results.
The KWFinder dashboard is simple and intuitive, and it's perhaps the best in the keyword research industry.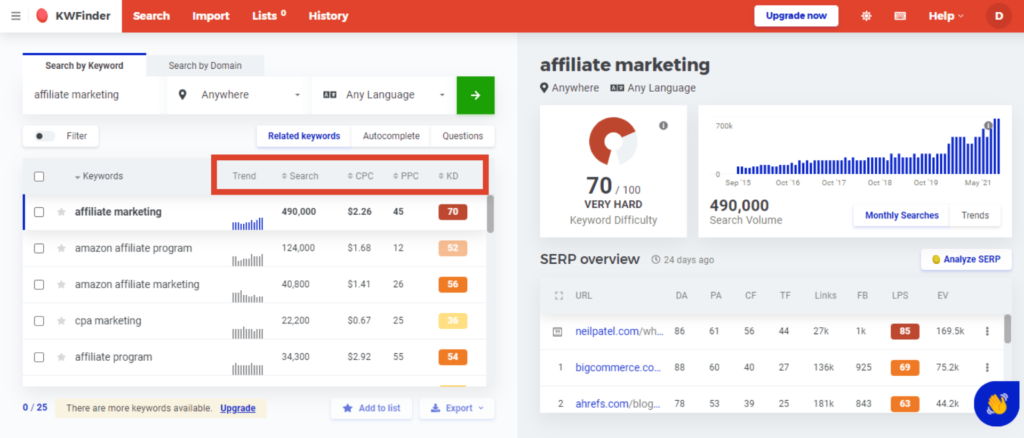 The left column displays a list of organic keywords linked to your seed term (in this case, "affiliate marketing"). You can also see ideas based on the Google Suggest algorithm by clicking "Autocomplete" or "Questions." 
The following information will be displayed for each keyword in the list of results:
Trend :- The search volume trend over the last 12 months.
Search :- Average monthly volume of searches.
CPC :- Google Ads' average cost-per-click.
PPC:- Average competition for Google Ads pay-per-click advertisements.
KD :- Mangools determines keyword difficulty by assessing the link profile strength of URLs ranking in the first SERP (Search Engine Results Page).
Do a SERP analysis for a keyword.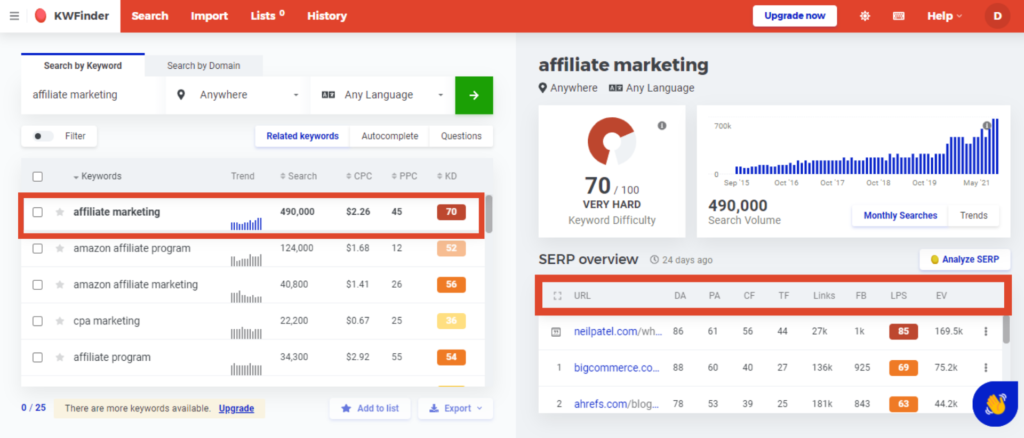 When you click on the right column titled "SERP Overview, you'll see a list of the top SERPs of any keyword you select on the Left column. You can get to that page by clicking on any of those links.
A sequence of initials run across the top row of the SERP Overview:
DA – Domain authority is a metric that predicts how well a website will rank in search engine results pages (SERPs).
PA – Page authority (PA) is a metric that predicts how well a webpage will rank in search engine results pages (SERPs).
CF – Citation flow; forecasts the importance of a URL based on the number of sites that link to it.
TF – Trust Flow; forecasts a website's trustworthiness based on the quality of its links (the credibility of the sources linking to that site).
Links – The total number of external hyperlinks.
FB – The total amount of Facebook engagements.
LPS – Link profile strength; Mangools' assessment of the page's backlink quality.
EV: Estimated monthly site visits originating from search results for a specific term (in this case, "content marketing").
By selecting the "Analyze SERP" button, you may examine the top SERPs for any given keyword in greater detail. This will result in the creation of a new Mangools app named SERPChecker.
SERPChecker is essentially a supplement to the information provided in the SERP Overview. It appears as follows: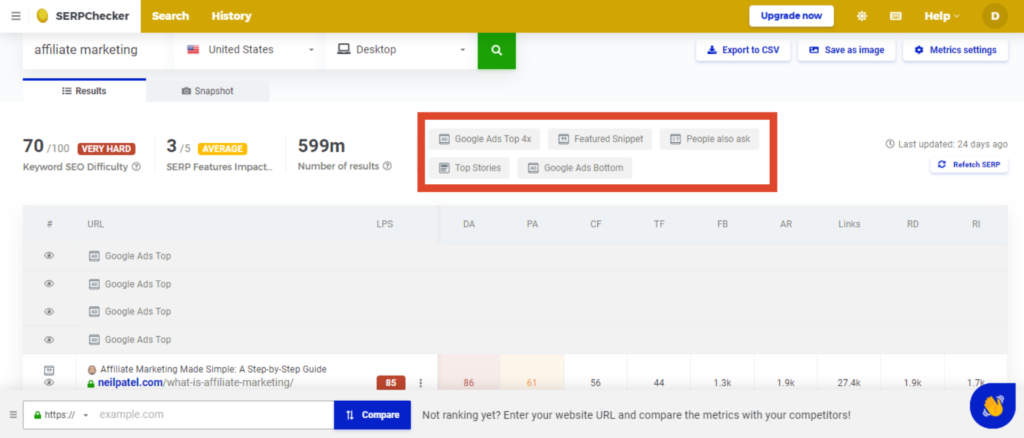 It displays the overall number of search results as well as a variety of additional metrics related to your phrase and also gives you a nice visual representation of a lot of the information in KWFinder's SERP Overview section (this data can be exported as a CSV file).
You may see a preview of the SERP by clicking on any of the buttons in the red box we've added to the image above: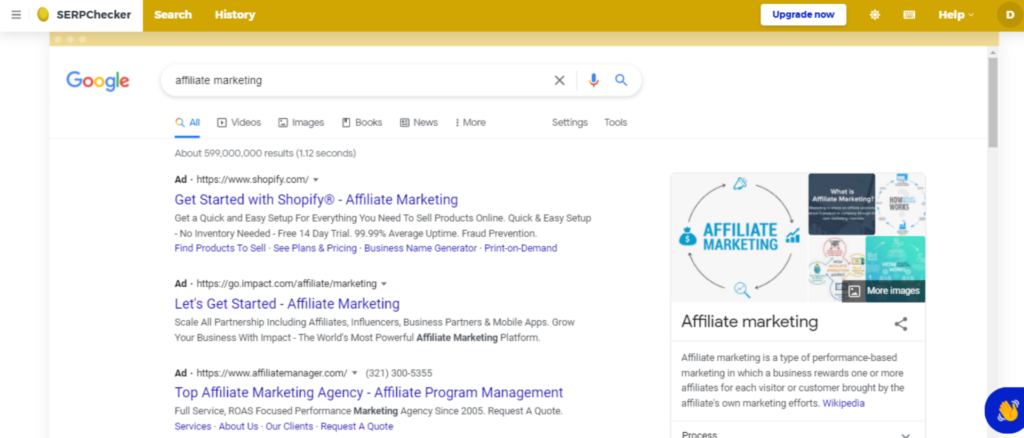 Make a keyword list and save it to your computer.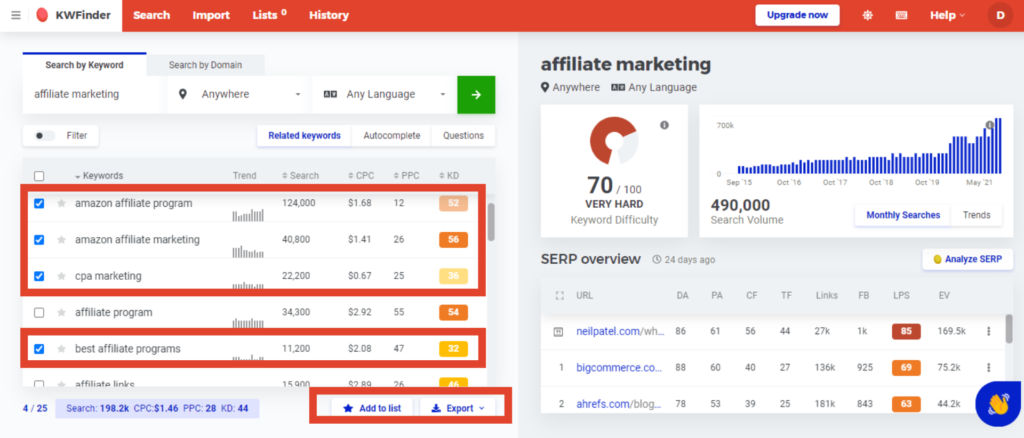 Simply click "Add to list" or "Export" after selecting the relevant terms you'd like to include in your list.
This is how the tool will display your keyword list:
To conduct some competitive research, search by domain.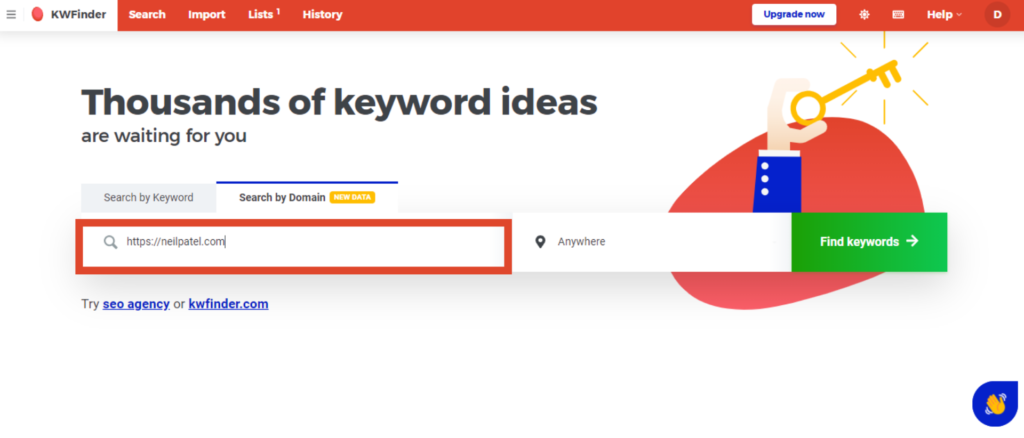 If there was one feature that previous versions of KWFinder lacked, it was the ability to identify competing keywords.
All you have to do is type in a competitor's domain name, and there you have it:
You can see both organic and paid keywords they're ranking for (and don't worry, the paid version gives you more than 10 ideas).
Serpwatcher
SERPWatcher allows you to keep track of your selected keywords' search engine ranking positions as they vary or remain relatively consistent in search engine ranking results. They focus on making SERP tracking effective and simple to use, with a user-friendly interface and optional email notifications to help you understand and monitor your SERP data as it changes.
Serp Checker
Examine the influence of SERP characteristics on organic search results by comparing your website to competitors'. SERPChecker recognises Google SERP features like Featured Snippets, Answer Boxes, and Carousels and predicts how they will affect organic search results. You may use SERP Checker to analyse SERPs using over 45 different metrics. SERP Checker is a useful tool for analysing SERPs.
LinkMiner
With over 8 trillion backlinks, LinkMiner is an easy-to-use backlink checking application.
Look for backlinks from your competition that you can readily replicate.
Mangools' Link Strength is a novel statistic that considers Citation Flow, Trust Flow, Do follow vs. No follow connections, and other factors to determine total link power.
Site Miner
Essentially, a snapshot of your site's – or a competitor's – most critical metrics, such as domain authority, backlink profile, top-ranking content, top-referring domains, and competition data.
What Are The Advantages And Disadvantages Of Kwfinder
Advantages:-
Fast
KWFinder is lightweight and quick to load keyword ideas and information. There is no time lag. You'll have no trouble acquiring results in a timely manner.
Ease of use
This tool makes it simple to find keywords. It is simple to operate, regardless of your degree of knowledge. The user-friendly layout makes navigation and keyword searches a breeze.
Saves Money
KWFinder uses data from Moz, Majestic, and a few other sources, in addition to its own Link Profile Strength tool, to compile a wide range of SEO metrics. You don't need to pay for these services separately because KWFinder already has them.
Multiple logins
If you have the Premium or Agency plan, you and your team can use KWFinder and other Mangools apps at the same time. This can contribute to a more efficient workflow and speed up the keyword search process.
One gadget with five functions
You get SERPChecker, LinkMiner, SiteProfiler, and SERPWatcher in addition to KWFinder.
Disadvantages:-
It does not support keyword research with multiple tabs.
The SERPChecker preview cannot be customised.
Your keyword search provides only a few results. No matter whatever package you buy, keyword searches are limited.
The pricing plans are not suitable for all budgets.
Only a two-day money-back guarantee is available.
Top Alternatives To Kwfinder
What Is the Price Of Kwfinder?
The cost of KWFinder varies from $49 to $129 each month. Mangools' other search applications for keyword rank tracking, backlink analysis, and SEO insights are included in the package. On annual plans, Mangools gives a 40% discount.
$49 per month for the Basic plan 
$69 per month for the Premium Plan 
$129 per month for the  Monthly Agency Plan
Reviews Of Kwfinder
So far, I've said a lot about kwfinder in an effort to be as honest as possible.
But let's hear from some other people.
Here's the first review I saw, in which the guy seems to enjoy the ease of use that kwfinders provides.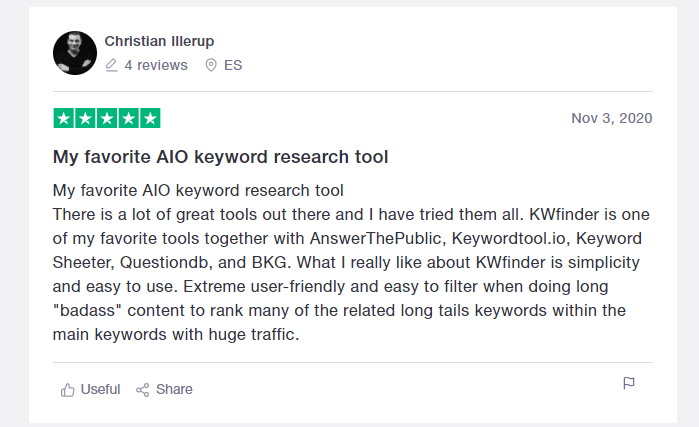 And here's another from the same site – yet another person who seemed to like the tool.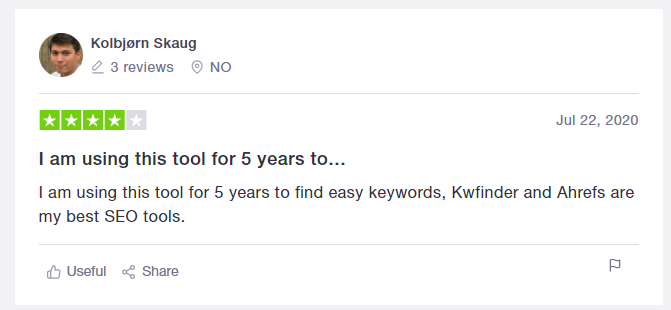 FAQ
Is KWFinder suitable for newbies?
Yes, KWFinder is the PERFECT keyword research tool for you if you're a newbie seeking hundreds of easy-to-rank keywords. It is not only inexpensive, but it also provides outstanding keyword data (including accurate search volume and competitor keywords).
Is it possible to buy just KWFinder?
No, you won't be able to. Mangools SEO products include the KWFinder keyword research tool, which they do not offer individually. Mangools provides 5 distinct SEO tools, including KWFinder, and their monthly plans start at $29.90.
Can I use Mangools' tools to track my keyword rankings?
Yes, Mangools has a fantastic feature called SERPWatcher that can help you track keyword rankings. On a daily basis, you can monitor up to 1500 keyword ranks (depending on the plan you choose).
Is it possible to use KWFinder to locate the keywords of my competitors?
Yes, of course. KWFinder has a feature called "Search by Domain" that allows you to type in any of your competitors' domains or URLs to see all of the best keywords they are currently ranking for.
Is there a free trial available for KWFinder?
Yes, you can sign up for a free 10-day trial of Mangools tools, which includes access to KWFinder for keyword research. 
Is there a refund policy for Kwfinder?
Yes, you can get a complete refund within two days of joining up if you don't like their tools or services. They offer a 48-hour refund policy right now.
How can we contact the kwfinder support?
KWFinder has a comprehensive help area with numerous written materials. When you hover over a measure, popups emerge that describe its capabilities.
The KWFinder Guide is an excellent primer on the tool. You can contact KWFinder support by email if you have more complicated questions. When I sent them a query, they responded within a day, and even faster on consecutive queries.
Is it possible to bulk-import data?
Yes, the bulk import option allows you to do so.
Is kwfinder a reliable tool?
Yes, kwfinder keyword difficulty is one of the most reliable tools available.
Final Thoughts
KWFinder has many competitors, but it has unbeatable pricing. You'll also have access to four more incredible Mangools tools that can assist you with rank tracking, competitor research, and so on. One feature of KWFinder that I like is that it provides accurate keyword data (including search volume and keyword difficulty).
So, if you're looking for a reliable tool for keyword research, this is a great option. Overall, KWFinder is an excellent tool for locating hundreds of easily rankable keywords in any niche.
Want more? No problem!
Read more related blogs below
Skimlinks Review 2021: Why should you use it?
10 Best ActiveCampaign Alternatives & Competitors
The Best 21 SEMrush Alternatives, Period
Legendary Marketer Review (2021): Is it worth it?
Comment & Share
I hope you enjoyed the blog!
If you liked it, I would really appreciate it if you can share it using one of the social sharing icon below.
Also, leave me a comment and let me know what you thought!