9 Types of Digital Marketing Channels (Find Out)
In this era of technology, digital marketing has been able to benefit businesses from large scale to small scale.
Unlike traditional marketing, you do not need to have big budgets to do advertisements and reach your target audience.
There are lots of digital marketing channels that you can pick and start advertising.
It has filled a gap that traditional marketing was not able to deliver to small business owners.
Also it's very important to have a strong online presence. So that people can trust you and see you as an authority.
According to statista digital marketing revenue is estimated to be 460 billion in the U.S by 2024. You see how much potential it has to grow your online business.
So in this post I am going to reveal the types of digital marketing channels that you can use and its importance.
Types of Digital Marketing Channels
Virtual Reality Marketing
Digital marketers utilise it to determine a brand's target audience.
It has the ability to provide your target audience with a fully immersive experience with your product, business, or service.
Having virtual reality marketing connected with a brand puts you in a cutting-edge, forward-thinking position.
Search Engine Optimization
Content marketing and SEO go hand in hand. Keyword research, page optimization, link building, and other actions that help people find you organically are all part of it.
People will look for products or services that are similar to yours and will have queries that you can address thoroughly.
When you want to appear on the first page of search results, this is the time to do it.
If you have a #1 organic result, you're 10 times more likely to get a click than if you have a #10 organic results.
Moving up one position in the SERPs increases your click-through rate (CTR) by over 30% on average.
Search Engine Marketing
Because of their similar names, search engine marketing (or SEM) and search engine optimization (or SEO) are sometimes mistaken.
Both work with search engines such as Google and Bing.
However, there are certain differences between these two sorts of digital marketing, and it's crucial to understand them.
SEM is all about increasing website traffic from search engines with paid ads, whereas SEO helps businesses rank organically for their chosen keywords.
Bing Ads and Google AdWords are the two most popular SEM services.
SEM enables advertisers to place paid advertisements on the search engine results page.
Except for a "Ad" mark, these paid adverts in Google look almost identical to organic search results.
They're near the top of the search results.
They display at the top of the search results page, ahead of any organic search results, offering you maximum exposure and brand awareness.
SEM is popular among digital marketers because it makes it simple to produce tailored search results advertising based on keywords and the location of the searcher.
This means you may target your adverts to a specific demographic or geographic location.
You can even go one step further and target competition keywords, allowing you to grab some website traffic from a competing company.
Search engine marketing isn't meant to take the place of optimising search engine results pages.
To bring as much search traffic to their website as possible, marketers should constantly combine the two.
Direct Marketing
Any sort of promotion that involves direct communication with clients is referred to as direct marketing.
Direct marketing tactics that deliver information about products or services include mailers, fliers, catalogues, telemarketing, and event marketing.
Direct marketing pushes clients to take action, whilst other forms of digital marketing focus on brand recognition.
This action could be joining an email list, scheduling a consultation, or purchasing something.
You might be shocked to learn that if a prospective consumer has never engaged with your firm before, they are 15% more likely to reply to an enormous mail piece.
Furthermore, 73% of American customers prefer direct mail to be reached by brands since they may read it whenever they choose.
Direct marketing is definitely worth exploring if you're a small or medium-sized business with little to no brand recognition and a limited budget.
Content Marketing
The technique of providing content, such as blog posts, whitepapers, infographics, and videos, with the purpose of inducing consumers to take a specific action, such as completing a purchase, is known as content marketing.
The content you develop as part of your content marketing strategy doesn't have to be commercial; it can be about anything.
While a single piece of content may amuse or educate the reader, it is only one aspect of a wider marketing campaign.
Content marketing can be used in accompanied by a variety of different digital marketing methods.
For example, You can optimise your content for search engines and share it on social media and by email.
Creating helpful information for your audience, aids in the development of relationships with them.
People will grow familiar with your brand and begin to trust you as an authority in your subject as they consume your content.
You can also make content that appeals to consumers at different stages of the marketing funnel, which depicts how people progress from first being aware of your company to becoming devoted customers.
Social Media
According to research conducted in May 2020 in 20 different nations, during the COVID-19 epidemic, 42% of social media users spend more time on social media. Facebook, Instagram, Twitter, LinkedIn, and YouTube, are among the most prominent social networking networks.
People are likely to encounter a post about your organisation, products, or services with a Learn More link when they visit their favourite social network pages.
In fact, this type of traffic is not difficult to generate, but it does necessitate the provision of relevant and compelling content on a regular basis.
Without a committed person managing your social networks or a well-organized posting schedule, this might be impossible to manage.
However, if your company has a loyal customer base, you may instantly crowdsource content to jumpstart your social media presence.
Once you've acquired some traction, the goal is to stay in touch with your audience at all times.
Provide special offers, reach out to individuals who have shown the most interest, and even showcase your social media accounts on your website.
Consider putting sponsored ads on social media channels as well.
These can be low-cost campaigns that cater to a specific market.
Email Marketing
For digital marketing channels, email is one of the most important marketing channels.
The ability to entirely automate this channel, from defining specific triggers to delivering them to monitoring visualisation and interaction, is the major benefit that makes it so popular among enterprises.
What is the mechanism behind it?
The company decides which communications should be sent to a lead and when they should be sent.
A trigger can be based on time, actions, or previous content engagement.
For example, grabbing the emails of website visitors through opt-in forms and then whenever you want you can email them about your offer, new articles, announcements, invitations etc.
This basic example demonstrates how email marketing can contribute to the development of your complete digital marketing strategy.
You can use getresponse autoresponder and without having to do everything manually, you can inform, discuss, and advertise at a faster rate, lowering the expenses of producing, qualifying, and converting leads.
Affiliate marketing
Affiliate marketing communicates your message to customers through intermediaries such as bloggers and influencers.
This channel connects you with significant people in your field who will promote your business on their blogs or social media accounts.
Because customers trust influencers far more than businesses, this marketing channel is effective.
You get actual people attesting to the value of your firm by collaborating with affiliates.
You'll most likely pay your affiliates a commission every time you make a sale, so there won't be a large initial expense.
Video Marketing
By 2020, 85% of organisations have already used video as a marketing strategy.
Video has enhanced website traffic for 87% of video marketers. According to 80% of respondents, video has directly aided in the increase of sales, and 83% claim it has aided in the generation of leads.
Almost nine out of ten people believe it gives a good return on investment.
Video marketing is at its peak, and it isn't going anywhere anytime soon.
Video has the ability to build brand awareness, tell compelling stories, guide purchase decisions, increase traffic, and boost conversion rates.
Hybrid pieces can be created by combining video and content marketing strategies.
Use platforms where you can optimise your videos, such as Vimeo and YouTube.
They'll have a lot better chance of showing up in search results this way.
Use social media to promote your video content. Consider putting it up on your website as well.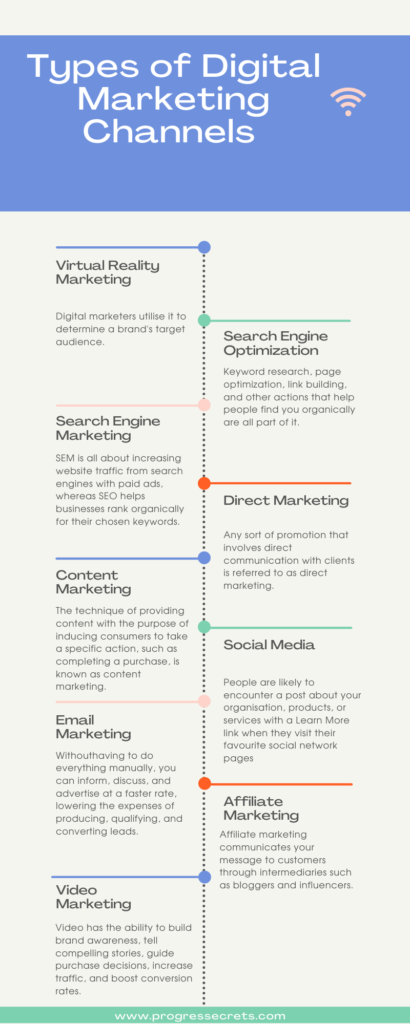 Importance of Digital Marketing Channels
Cost-effective
Digital marketing is the best option for organisations who are short on cash and resources.
It gives a more effective and cost-effective marketing channel with quick results.
According to a survey report, around 40% of respondents indicated that using digital marketing tactics to advertise their products and services saved them a lot of money in marketing.
It Is Aimed Towards Smart-Phone Users.
The most frequent instrument for communicating and disseminating information is smart gadgets.
This huge wave has been fueled by the fast growth of internet-connected tablets, smartphones, and other devices.
According to a survey, mobile phones have matured into purchasing influencers and have become alternatives to desktop computers and laptops.
As a result, now is an excellent time to develop mobile-friendly digital marketing efforts.
It sets the way for rapid corporate expansion and proper growth.
It Helps To Establish a Positive Brand Image.
The goal of digital marketing services is to drive targeted traffic to a website.
Various audiences are actively looking for products and services on the internet.
It is the goal of digital marketing channels to bring them to your website.
A solid relationship develops if clients receive what they were promised—quality products, quick delivery, or doorstep collection.
It allows you to gain loyal clients who will become future brand supporters.
Improves Your Conversion Rates
Digital marketing channels are far less expensive than traditional marketing, which includes expensive TV, radio, and print ads.
You can also more easily boost your ad conversion rate than with traditional marketing.
Because everything happens offline with print ads, it's typically impossible to track conversion rates.
How do you know if someone saw your ad in a magazine and then came to your store?
How can you optimise your ads if you can't track its performance?
Because every interaction is tracked in digital marketing, it's pretty straightforward.
You can see how many people are seeing your ad and what actions they are taking right now.
Most digital marketing channels feature reporting tools that you can use to fine-tune your ad targeting, copy, and design.
Final Thoughts
With this many digital marketing channels you can easily grow your online presence and conversions. First decide which channel you are going to pick and learn how to use them to their full potential. Because if you don't know how to use them properly you can lose your money. So I do not recommend that you do that. There are lots of online resources from where you can learn and implement the right strategies.
Want more? No problem!
Read more blogs below
Authority Content: How To Create It Even If You're Not An Expert?
How To Create Evergreen Content: A Step-by-Step Guide to Writing Timeless Posts
The Ultimate Guide To Build And Grow A Niche Brand
How To Hire A Virtual Assistant To Do Mundane Tasks
Comment & Share
I hope you enjoyed the blog!
If you liked it, I would really appreciate it if you can share it using one of the social sharing icons below.
Also, leave me a comment and let me know what you thought!