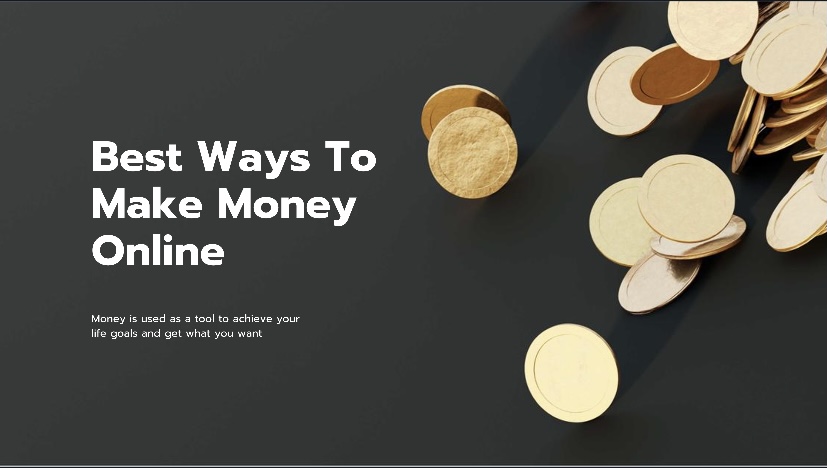 10 Easy Ways To Make Money From Home
Working from the comfort of your home or anywhere else on this planet is the greatest achievement of life.
You can feel the real freedom and get the chance of spending quality time with your loved ones.
In today's world with a lot of technology and easy internet access, you can easily make a living for yourself.
But when it comes to making money, it's not that easy. If you have been searching on the internet how to make money online but as a result you are getting only scam ways to earn money.
Then do not worry!
Because this has happened to me also as when I first started my online journey and I can feel the pain. This thing really frustrates and makes us feel that "NO" we can not make a living at the comfort of our home.
But that is not true!
Today in this post I am going to share the top ways to make money at the comfort of your home which you can choose and start working from today's onwards.
Before I start let me be clear to you guys that it is not a get rich quick type of thing. These are the legitimate ways to earn money online.
Yes, you need to work hard for it, give appropriate amounts of time, be consistent, and dedicated. Then only you can make money with these ways that I am about to explain.
But, If you are the person who wants to become rich in a single day then this post is not for you. There is no such thing that can make you rich without any hard work.
So without wasting any time let's get started.
Affiliate Marketing
Affiliate marketing is one of my favourite ways to earn money online and that is why it is number on the list. So it is a business model when an online store pays you a commission for traffic or purchases created by your recommendations, this is known as affiliate marketing.
In the affiliate marketing business, there are two ways to make money; you must choose one.
You can either become a publisher and promote products from various businesses and advertisers.
You can become an advertiser, you can build your own affiliate network and turn it into a full-fledged digital ad agency.
Which path to take is entirely up to you!
Earn money as a publisher
This is your only choice if you're starting from scratch and have no money is to become a publisher and sell items.
But it's not that simple!
Expect to post a few links and have hundreds of people click on them to purchase items. To do so, you'll need a well-thought-out marketing strategy that you can put into action.
Earn money as advertisers
Assume you've developed a great product. In such a situation, you'll probably agree that as a product owner, you should focus on improving the quality of your product or delivering it directly to your customers. You want to delegate the promotion to someone else, and you want them to perform a good job. Adding an affiliate program to your marketing strategy is a terrific tool whether or not a vendor has in-house marketing. With the support of affiliates, one can dramatically boost sales.
Freelancing
A freelancer, also known as a freelance worker, is a self-employed individual who makes money by delivering services to a number of different clients. These services are related to a person's abilities and are not limited to enterprises.
Freelancers either acquire work via third-party platforms like Fiverr, 99designs, and others, or they leverage their network to get more work and give services directly to their clients.
But Is it a good professional choice to make money online?
The simple answer is "yes". There must be something excellent about this industry if 11% of the working adult population in the United States works primarily as full-time freelancers.
Also, the ability to work from anywhere at any time, being your own boss, keeping all earnings, and a cheaper cost of operation, entices many people to choose freelancing as a career.
Become a virtual assistant
A virtual assistant (VA) is a person who can assist other businesses from a distance. Virtual assistants are in high demand by entrepreneurs and online firms who need support but don't want to hire full-time workers in a specific area, thanks to high-speed internet, document sharing, and low-cost conference calling services.
Having someone assist their organisation remotely gives them greater flexibility, lowers fixed expenses, and allows them to scale up and down as needed.
Simply put, as a virtual assistant, you will be requested to perform office and administrative activities from a distance.
Becoming a virtual assistant can finally allow you the freedom to live the balanced lifestyle you've always desired.
You get to select who you work for and what responsibilities you take on as a virtual assistant. You'll be able to set your own hours and work from wherever you want.
You simply need to trust in yourself, understand your talents, and master the fundamentals, and you'll be able to start your virtual assistant business in no time!
Of course, like any job, it requires a lot of effort, especially in the beginning.
You'll have a lot to learn, and you'll need to be persistent and not give up at the first hurdle, but the freedom that comes with being in charge of your own life will be priceless.
It's also possible to earn a full-time salary within a month or two of getting started.
Dropshipping
Dropshipping is a sort of order fulfilment in which the store owner does not handle their own inventory. Dropshippers, on the other hand, purchase things from a third-party supplier who then fulfils customers' orders.
Let's pretend you own an online store that sells dog supplies.
You don't have to acquire hundreds or thousands of collars or leashes in advance and store them in a rented warehouse (or your garage) until you sell them as a dropshipper. Instead, you locate a third-party provider with warehouse space to store your products.
When a consumer makes a purchase from you, your supplier (or suppliers, if there are several) takes over and ships the product directly to the buyer. You'll never have to worry about logistics again!
Isn't it amazing?
As a seller, your primary goal is to attract clients to your online store through marketing for your dropshipping business. That is something you can accomplish from anywhere.
Youtube Channel
You have definitely heard about youtubers earning money online and you can also become one.
Anyone who uploads self-produced videos to their YouTube Channel is referred to as a YouTuber. They've often given their channel and videos a distinct name, topic matter, and style. Some, on the other hand, have taken YouTube to the next level.
As a YouTuber, your goal is to generate video content for a specific audience that is entertaining, original, and instructional. Keep in mind that you don't just want someone to start watching one of your movies; you want them to finish viewing all of them. Even better, once they've finished, they can start talking about it, sharing it with their friends, and maybe even watching it again! As a result, you can build a dedicated following, get a lot of views, and make money with them!
You might be wondering about the platform at this point. Why do consumers prefer YouTube to other video platforms?
Because youtube is a very popular platform that isn't going away anytime soon. The overall number of YouTube watchers is 1,300,000,000 – that's one billion, three hundred million people. That means one in every six people on the planet is watching YouTube videos. It goes without saying that it is one of the most widely used social media platforms on the planet. Every day, about five billion films are viewed by a whopping 30 million unique visitors. As a result, it's not unreasonable to refer to it as a search engine. In fact, after Google, it is the most widely used search engine. That's right, it's more popular than Amazon.
Blogging
Blogging used to be just another hobby for some people who worked full-time jobs and blogged on the side. Blogging continues to operate in this manner today, but so much has changed.
It has become a lucrative online profession in 2021, and many individuals are starting blogs to pursue this as their full time career.
You can earn from $1000 – $2 million per year with blogging depending on the few factors below:-
Which niche are you going to choose?
How much time do you spend studying and putting new ideas into practise?
How much content are you planning to upload?
How much traffic does your blog receive?
What digital marketing strategies do you use?
Other aspects such as regularity, your network, personal drive, and goals all play an important role.
However, your niche and digital marketing skills can help you progress quickly in the blogging world.
Here is how bloggers monetize their website:-
Ad networks
The easiest and most generally utilised approach for monetizing a blog is through ad networks.
The two most widely used ad networks are:
Google AdSense 
PropellerAds
To be approved for these ad networks, you must have a blog. They automatically display adverts based on the context of your article as well as user interest. Most new sites employ these techniques to monetize since they provide ongoing revenue. Because the advertisements are of great quality, they have no negative impact on the user's experience.
Promoting Affiliate products
Affiliate marketing is one of the finest ways to make money because a single transaction is worth a lot more than a single contextual ad click.
It's something that the majority of bloggers are doing these days, and it's one of the most profitable ways to monetize a blog.
Selling ebooks
You'll note that top bloggers' business models revolve around selling their own items, such as eBooks.
All you have to do is choose a topic, write an eBook about it, and sell it on your blog or on Amazon. You can make a reasonable living selling eBooks online once you've become used to the procedure.
Native advertising
Native advertising has been one of the most popular ways to monetize your blog. Native advertising can be particularly profitable for news and job-related blogs.
A few native advertising options are worth your time and effort to adopt.
Selling services
You can provide a variety of services depending on your abilities. You can offer article writing, logo creation, SEO, and other services
It's simple to start your own service. You simply need to establish a page on your blog and list the services you provide. Make sure that the link to that page is prominently displayed in your blog's navbar for optimum visibility.
Make it as simple as possible for your audience to get in touch with you and learn more about your services. As you work with your first couple of clients, you'll come up with a lot of new ways to improve your service's sales process. Indeed, you can also automate some processes, such as payment and follow-up.
Sponsored Reviews
Paid reviews are an excellent method to increase your monthly earnings. A tiny review post can easily earn you $10 or more.
Here are a few websites where you can find paid reviews and sponsored content:
Influencer
An influencer has the power to influence the purchasing decisions of others because of his or her authority, education, position, or relationship with his or her audience.
He or she has a devoted following in a certain specialty with whom he or she actively interacts. The size of his or her niche's following is determined by the size of his or her niche's topic.
It's vital to remember that these individuals aren't just marketing tools; they're also social connection assets with whom brands may work together to achieve their marketing goals.
Many people find working as a social media influencer to be incredibly attractive. Working as a social media influencer can be a breeze because most social media platforms are simple to use. But keep in mind that you aren't the only one who wants to make money in this field. Typically, many people have been making money as a social media influencer for years and have had a successful career.
Take notice of the following suggestions on how to become a social media influencer if you want to achieve the same or even greater levels of success:
Find your area of expertise.
Select a social media platform.
Create a content strategy.
Make sure your content is correctly distributed.
Twitch Streamer
On Twitch, streamers make money from crowdsourced subscriptions, viewer donations, and 'Twitch Bits' (another form of viewer donation). Advertisements, brand sponsorships, affiliate marketing, merchandise, and game sales are all sources of revenue for them. In addition, some Twitch streamers get money from YouTube videos and Patreon fundraisers.
Let me be clear: earning money on Twitch can be extremely difficult if you're just getting started streaming.
For starters, until you become a Twitch Affiliate or Partner, you won't be able to make money from subscriptions, Twitch Bits, game sales, or adverts. Plus, until you have a significant following, it's nearly impossible to make money via sponsorships or goods.
If you want to learn how to make money on Twitch without becoming a Partner, there are four options to consider as you build your following:
Donations
Patreon
Affiliate marketing
YouTube
Stock Market
The stock market — and how it works for you — is as straightforward as a high school economics lecture. It's all about supply and demand, and how they influence value. Investors buy market assets such as stocks (business shares), which appreciate in value when the company performs successfully. More investors want a piece of the action as the company in question grows financially, and they're willing to pay more for a single share.
That means the share you paid for has now increased in value due to greater demand, which means you'll be able to profit when it's time to sell it. (Of course, stocks and other market holdings can lose value as well, which is why there is no such thing as a risk-free investment.) The average rate of return on the stock market has historically been roughly 10%.
You can earn shareholder dividends, which are portions of the company's earnings, in addition to the profit you can make by selling stocks. Dividends are typically paid quarterly in cash, but you may also get dividends in the form of extra stock shares.
One important thing to note is that you will fail if you conceive of investing as "pressing a button."
Most people don't put in the time and effort that successful investing necessitates. Instead, they glance over the most recent Robinhood news or a Motley Fool storey. This tendency tempts young investors to invest in a promising biotech business or the hottest tech investment. However, any corporation, from Microsoft on down, can fail.
As a result, learning how to study stocks is an important first step toward limiting risks and optimising returns.
Instagram Page
Instagram has quickly grown to over one billion active users, making it one of the fastest-growing social media sites.
It's evolved from a simple photo-sharing app to a strong marketing tool used by influencers and organisations of all sorts to reach their target audiences in recent years.
According to Instagram Business, 60% of people use the platform to discover new products, and 80% of them follow at least one brand. Each day, 200 million accounts visit a business profile, with non-followers accounting for 66% of profile visits.
Instagram, like Google and Facebook, is a platform where potential clients can be found on a daily basis.
Here are the top ways to make money with instagram:-
Promote affiliate links
You can make money with affiliate marketing by promoting affiliate links on Instagram. To do so, first join a high-paying affiliate network, then add affiliate links to your Instagram and earn a percentage of the purchases you generate.
Join affiliate networks such as Shareasale, Flexoffers, and Refersion to do this. Instagram is an excellent area to promote affiliate links because it has a large and active user base.
You can put a clickable link in your Instagram bio regardless of how many followers you have.
Sell physical and digital items.
Instagram has been a powerful sales generator for ecommerce firms in recent years.
Because customers do use Instagram to find and buy things, they've added more tools to business accounts including in-app checkout, the shop button, product tags, and shoppable stickers to make the process smoother.
Sponsored Posts
According to Social Toaster, 92% of consumers believe word-of-mouth recommendations, 76% trust material posted by ordinary people over businesses, and 82% of customers want to acquire referrals from friends before making a purchase decision.
Simply said, people seek for peer recommendations, thus it's no surprise that more and more firms are reaching out to influencers for brand mentions.
According to the Federal Trade Commission's (FTC) requirements for online advertising, all influencers must declare sponsored posts since users expect transparency on Instagram. Here's how a sponsored post works.
Become a Brand Ambassador
Most businesses want to build long-term relationships with influencers, so they look for brand ambassadors who can promote their business in a good manner on a consistent basis.
Because Instagram is the most popular platform for influencer marketing, people may utilize it to identify brand ambassador programs and cooperate with businesses to promote their products. Influencers are frequently sent complimentary products by large brands so that they may review and promote them.
Final Thoughts
So this was the complete list explaining ways to make money online. There are lots of other ways also but I have picked the best one for you which is completely legitimate. All you need to do is action, hard work and persistence.
Before you get overwhelmed and get confused to make a decision from where do I start? Then sit and see which of the above things seems interesting to you and also after choosing one option, stick with it.
Do not try to do multiple things at a time. Because you are a human being and not a machine. You need to pick one and go with it. This way you can be more efficient in the work that you are doing.
Want more? No problem!
Read more blogs below
Youtube Affiliate Marketing: How To Do it?
How To Make Money On Steam (2021)
How To Make Money On Pinterest Without A Blog (2021)
Comment & Share
I hope you enjoyed the blog!
If you liked it, I would really appreciate it if you can share it using one of the social sharing icon below.
Also, leave me a comment and let me know what you thought!